Packed Bed Scrubber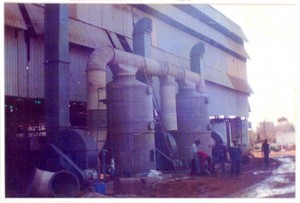 Packed Bed Scrubbers are used for contaminant removal include noxious or toxic fumes from chemical processes or odorous fumes from water / sewage treatment and compost facilities. Scrubbers use liquid (usually water) to absorb the finer dust particles. Water comes into contact with the dust filled air stream and captures dust in water droplets. The dirty water droplets accumulate, and are collected and removed. The cleaned air contains fine water droplets forming a mist. These water droplets can be removed from the cleaned air by a mist eliminator where mist and air are separated either by change in air flow or by the spin in air stream which creates the centrifugal forces. The dust-water mixture is either cleaned or recycled into the scrubber. The accumulated dust is removed by using a clarification tank or a drag chain tank, where dust particles can be cleaned after they settle to the bottom.
Depending upon each application, scrubbers can be manufactured from specialty metals; fiberglass reinforced plastic (FRP) or thermoplastics. Each scrubber application is individually designed and engineered. High collection efficiencies can be achieved in scrubbers by maintaining velocities of air that are high enough to drive dust through the surface tension of water droplets
KARYASIDDHI provides a wide range of Packed Bed Scrubbers, which comes with water spraying arrangements. Manufactured using quality raw material, our range is primarily used in steel plants and paper & cement industries for removing gas, vapors and chemical mist. These are rugged in construction and packed using ceramic saddles or any other suitable packing material.
We manufacture packed bed scrubber with the specifications mentioned below.

| | |
| --- | --- |
| Capacity | 1000m3/hr to 20000m3/hr |
| Pressure drop | 100mmWG to 150mm/WG |
| Particulate size to be scrubbed | Up to 3 microns |


Applications

• Steel Industry
Blast Furnace, Electric Arc Furnace, BOF, etc

• Fertilizer Industry
Phosphate Rock Dryers & Calciners, Dryers

• Non-Ferrous
Copper Reverberatory Furnace, Laea Blast Furnace

• Pulp & Paper
Lime Kilns, Back Liquor Recovery, Bark Boilers

• Sugar Industry
Boiler Flue Gas, Bagging Section