Pulse Jet Bag Filter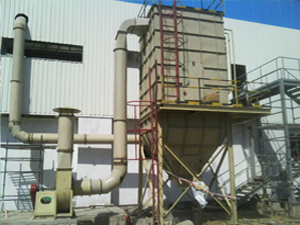 Karyasiddhi is a leading name in Pollution control equipment design and manufacturing. Our Pulse jet bag filter installations across India for leading MNCs and Indian companies have proved our expertise in this field. All our units are designed to operate with a pressure difference of 100-125 mm W.G.
In the pulse jet bag filter as name implies dust laden gas is spread all over the bag filter through nozzles. The continuous passage of dust laden gas leads to accumulation of dust over fabric which increases pressure drop. It is cleaned by compressed air, passing through the blow nozzle, at very high velocity and for very short durations. This produces a shock wave, which is propagated down the bag length, causing the bag to expand and snap away from the cage, dislodging the dust cake, which falls into the hopper.
Applications

Steel Industry
Blast Furnace, Electric Arc Furnace, BOF, etc

Fertilizer Industry
Phosphate Rock Dryers & Calciners, Dryers

Non-Ferrous
Copper Reverberatory Furnace, Laea Blast Furnace

Pulp & Paper
Lime Kilns, Back Liquor Recovery, Bark Boilers

Sugar Industry
Boiler Flue Gas, Bagging Section

Mineral Products
Asphalt Stone Dryers, Cement Kilns

Pharmaceuticals
Tablet Coating
".